The 11th Frame
By Amy Oldham
May 11, 2016
Yesterday, the entire company took a lunch-time excursion to a local bowling alley for a little fun and a whole lot of team building. The Equinox Bowling Tournament was not my first experience with team building at this company. Earlier this year, the entire company also participated in a real-life escape game, where we had to find our way out of a locked room in 60 minutes using only our wits and skills. (Read the recap of how the teams did here.) While these two events were wildly different from each other, they were both very successful. And they both underscored how much I liked working at close-knit company where everyone collaborates, has fun, and encourages each other through the successes as well as the "oops!" moments.
Here's how it went down: we divided into randomly assigned teams of 4, with all departments and senior management interspersed throughout the teams. We bowled two games, with our eyes fully trained on taking home one of the day's coveted awards. We laughed, we ate, we watched a few good bowlers pick up spares and strikes, and we witnessed some gutter balls. But through it all, we had a blast because we were doing that is truly important to Equinox: building and fostering long-term relationships.
And without further ado, here's the top ten reasons I think the Equinox Bowling Tournament rocked:
Happy Bowling Birthday! Senior Software Developer Ronnie Gibbs' birthday just happened to occur on the same day as the tournament. It was great fun to surprise him with a cake and a rousing chorus of happy birthday. It was even more fun to watch Lesa move the cake from place to place and have people strategically stand in front of it multiple times throughout the morning so we could keep it a surprise. It's a miracle the cake didn't end up on the floor when it was finally presented to him.

Bonus team time. Byron and Derek had such a great time being on the same team for the Escape Game that they paired up again for bowling. I'm assured that the teams were randomly assigned, but no one is fooled that these two keep ending up on the same team...it was positively sidesplitting to hear the way Byron "encouraged" Derek to do his best and see how grateful Derek was for his advice.

Turkeys, turkey, and more turkeys! There's at least one turkey in every company. However, we had three turkeys during yesterday's matchup. One developer, Johnny, along with two members of support, Ernest and Joe, bowled three strikes in a row. Most of us expected Ernest to get a turkey, but I think there was an audible gasp after Joe hit the third strike. None of us was sure he had the strength to carry, much less roll, the bowling ball all the way down the lane.

Pin prowess. Prior to the event, we were informed of the award categories and strongly encouraged to talk smack to other teams. There was no shortage of pre-game bragging and no stopping the competitive spirit during the games. And that's good news for everyone involved, because there is much evidence linking competition to increased production.

Dubious distinctions. Around here, we don't subscribe to the notion that everyone is winner. That's exactly why we had a predetermined set of award categories and kept score. And there was no question that we printed the scores so we could relive the victories long after the day was over. You can too by reading the complete list of award winners at the end of this article.

Alleys promote allies. Taking the event offsite allowed folks to bond in ways that are simply not possible within the office. To my knowledge, no one has ever been asked to perform a celebratory dance at a successful project's completion, yet we had no trouble asking the turkey bowlers to strut their feathers at the bowling alley yesterday in front of other onlookers. Team building is clearly an effective tool for breaking down barriers that exist in a corporate setting.

Free food. Someone else prepared and delivered lunch right to our lanes. What's not to like?

All hands on deck. We have a few Equinox employees who work from remote locations or who are not in the main office on a daily basis. This event allowed us to bring everyone together for a common cause. Beyond working together, socializing is an important factor in establishing the kind of long-term relationships we have at Equinox.

Fashionable footwear. Who doesn't like wearing lime green and orange shoes with glow-in-the-dark laces? Especially ones that have literally been on a thousand other feet before yours? Apparently, 10% of the people at Equinox do not like the fashionable rental shoes at the bowling alley and opted to bring their own shoes (and sliders!). Intimidation tactic or fashion statement? The jury is still out.

AND THE NUMBER ONE REASON IS...

Laughing at your CEO's jokes. Thanks to Byron's intense drive to foster competition (see #7), we were treated to Byron's comedy routine throughout the entire tournament. He had some real zingers!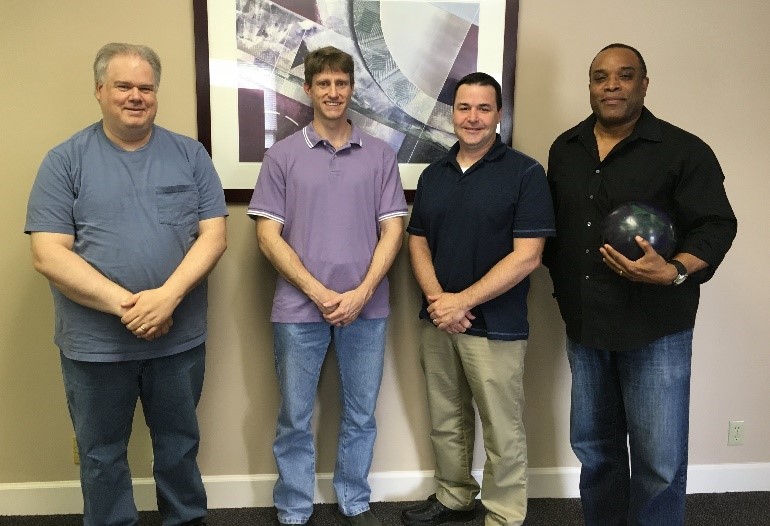 L to R: Ronnie, Bill, Johnny, and Ernest are the high-scoring team.
(It's no surprise that Ernest is the high-scoring individual!)
As you can see from my list, it was not only a fun outing, but it was also a great learning opportunity in disguise. Team building is an effective tool for breaking down corporate barriers so that teams can fully realize their maximum potential, and that's no laughing matter.
And the Award Goes to...
No tournament is complete without awards. And boy did we have some doozies.
| | | |
| --- | --- | --- |
| High Scoring Individual | Ernest | 382 |
| High Scoring Team | Johnny, Ronnie, Ernest, and Bill | 1159 |
| Low Scoring Team | Chris, Christi, Robert, and Joe | 889 |
| Three Strikes in a Row | Johnny, Ernest, and Joe | |
| Spilt Pickup | Wayne, Bill, and Amy | |
| Greatest % Increase Game 1 to 2 | Johnny | +69% |
| Greatest % Decrease Game 1 to 2 | Joe | -27% |
| Person who raised Derek's blood pressure the most | Derek | Winner by unanimous vote |
| Person Derek thinks raised his blood pressure the most | Byron | This contest was not even close |
| Most ibuprofen taken that day | Joe | 800 milligrams and counting |

About the Author: Amy Oldham is in Corporate Communications at Equinox Information Systems, where she creates and maintains the company's technical documentation as well as all other customer-facing publications. Amy is also responsible for the company's newsletter, email campaigns, press releases, and social media presence. When not writing, Amy enjoys spending time with her family, playing tennis, and swimming.
To learn more about Equinox, its products, and staff, visit www.equinoxis.com or call (615) 612-1200.