CCA Capitol Hill Day Continues as Planned
By Amy Oldham
October 9, 2013
If I told you that we purposefully scheduled a trip to the nation's capital after the government-announced shutdown, you might wonder why. It's because Equinox was invited to participate in CCA Capitol Hill Day, which is an opportunity for members of CCA to advocate for the wireless telecom profession on Capitol Hill in Washington. Recognizing the importance of this effort, CCA forged ahead with the event as originally planned.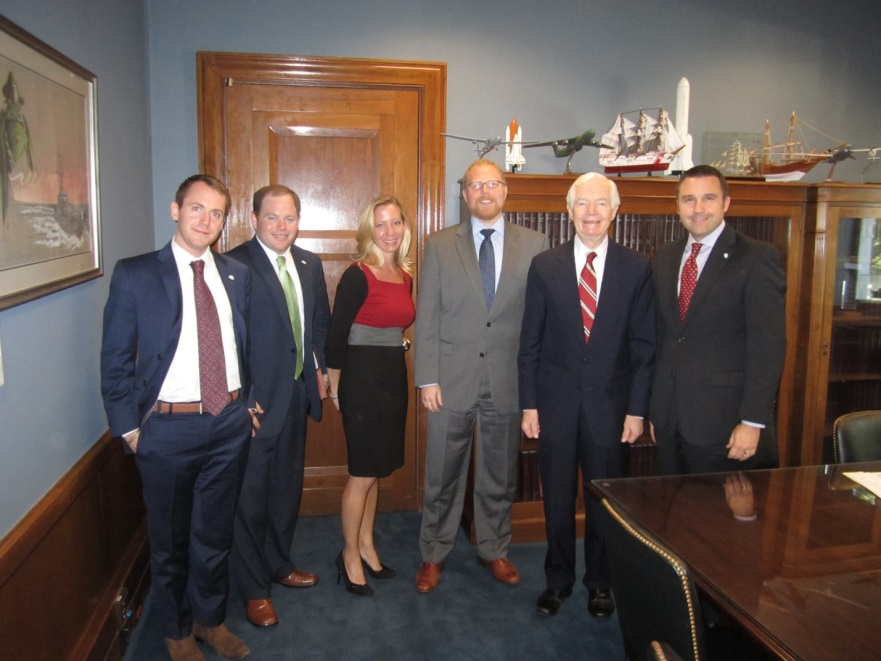 Pictured L to R: Sean Spivey (CCA), Tim Donovan (CCA), Beckie Rivas (TNS),
Ben Moncrief (C Spire Wireless), Senator Thad Cochran, David West (Equinox).
The Competitive Carriers Association's (CCA) mission is to help competitive carriers grow and thrive in the wireless industry by representing their interests before public and private entities who decide and oversee wireless service policies. Equinox has served CCA's members with solutions for over a decade. We are also an active member of the organization. CCA gives us the opportunity to keep a close eye on the business and regulatory issues currently facing the wireless industry. We highly value the relationships we have with our customers, and our involvement in CCA allows us to understand the impact of such issues on them personally.
Capitol Hill Day is one of CCA's most visible advocacy events, designed to help educate politicians and policymakers about issues key to wireless carriers. And, we did not want to miss the opportunity to participate. The event consists of making direct contact with legislators and staff to discuss policy issues impacting CCA members. The top policy goals for CCA currently center around access to spectrum, access to devices, and access to networks. Last week's CCA Capitol Hill Day focused on the specific issue of auctioning spectrum licenses based on smaller geographic licenses, such as CMAs and spectrum aggregation.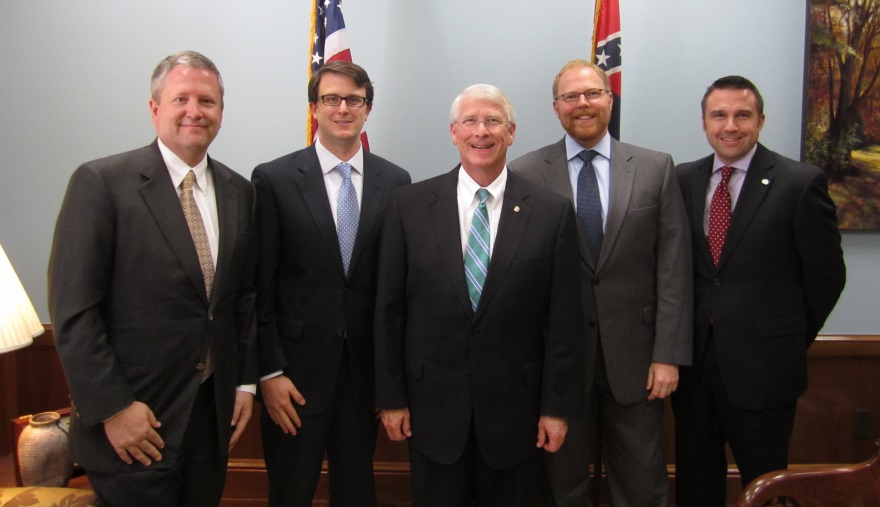 Pictured L to R: Grant Spellmeyer (U.S. Cellular), Hugh Carroll (Sprint), Senator Roger Wicker, Ben Moncrief (C Spire Wireless), David West (Equinox).
Equinox's very own David West spent the day alongside CCA staff, CCA carriers, and CCA associate members meeting with Representative Marsha Blackburn (TN 7th district), Senator Thad Cochran (MS),and Senator Roger Wicker (MS). Additionally, they met with staff members from the offices of Senator Lamar Alexander (TN) and Representative Gregg Harper (MS 3rd district). David was involved in a number of discussions between these policy makers and CCA representatives. When asked to describe the event, David said, "It was a full and productive day of meetings, well worth the trip. Getting a first-hand account of how these policies affect our customers and other CCA members is vital in our ongoing efforts to provide the best telecom solutions on the market. I look forward to being involved in this opportunity and other CCA endeavors in the future."
About the Author: Amy Oldham is in Corporate Communications at Equinox Information Systems, where she creates and maintains the company's technical documentation as well as all other customer-facing publications. As part of her efforts on the Sales & Marketing team, Amy is responsible for the company's newsletter, email campaigns, press releases, and social media presence. When not writing, Amy enjoys swimming, running, and spending time with her family.
To learn more, visit www.equinoxis.com or call (615) 612-1200.