Vegas Was No Bust!
By Amy Oldham
March 10, 2015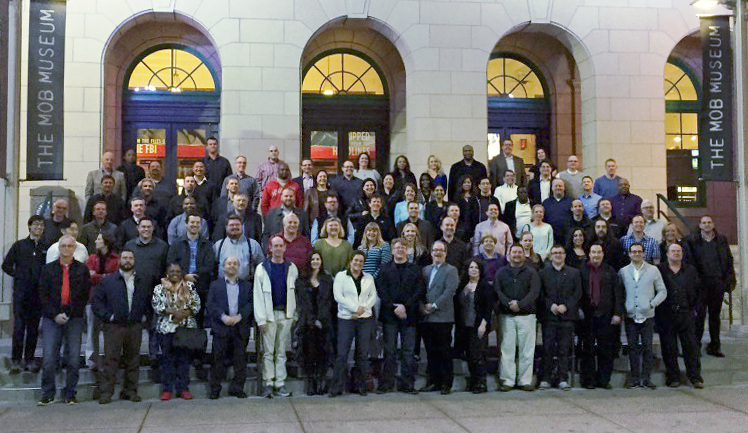 The CFCA Educational Event included a special event at the Mob Museum, located in Las Vegas' old Federal Courthouse, where attendees enjoyed dinner and got a real feel for mob action in the early days of Las Vegas.
Last week, it was "Vegas or Bust!" as we headed out to the Communications Fraud Control Association (CFCA) Winter Educational Event, held at The Tropicana in Las Vegas, Nevada. Sessions at this important seminar centered on fraud perpetration methods, strategies for combatting fraud, and ideas for protecting assets.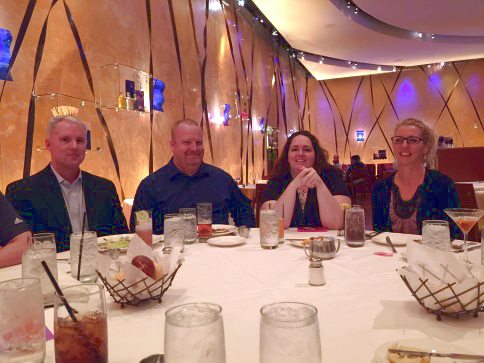 Equinox has been attending CFCA conferences for over 25 years, has been an active member for almost 20 years, and is proud to have sponsored this latest meeting. The company's professional affiliation with CFCA is an important one, as our mission is to be an industry leader in the fight against fraud. Because fraud happens to every sector of telecom in every corner of the world, CFCA's members are diversified—both geographically and by business type. This mix ensures that the information shared through CFCA provides insight into the latest fraud trends and perpetration methods holistically.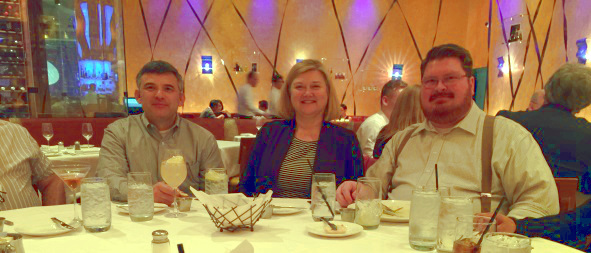 Christi Vanoye (pictured above in middle), along with David West, enjoyed hosting our customers at Emeril's New Orleans Fish House.
Many of Equinox's customers also belong to this organization; therefore, participating in the seminars has added benefit for us beyond the educational component—it's an effective way to better understand the revenue protection and fraud vulnerability challenges those customers face personally. Additionally, one of our favorite parts is the time we spend with our customers during the traditional Equinox dinner. This year, Christi Vanoye and David West both attended the meeting and had the pleasure of hosting our customers at Emeril's New Orleans Fish House. Many thanks to all those who were able to join Equinox for dinner at CFCA! We look forward to seeing you at upcoming industry events this year.
About the Author: Amy Oldham is in Corporate Communications at Equinox Information Systems, where she creates and maintains the company's technical documentation as well as all other customer-facing publications. As part of her efforts on the Sales & Marketing team, Amy is responsible for the company's newsletter, email campaigns, press releases, and social media presence. When not writing, Amy enjoys spending time with her family, playing tennis, and swimming. To learn more, visit www.equinoxis.com or call (615) 612-1200.