Going The Distance
By Amy Oldham
October 21, 2016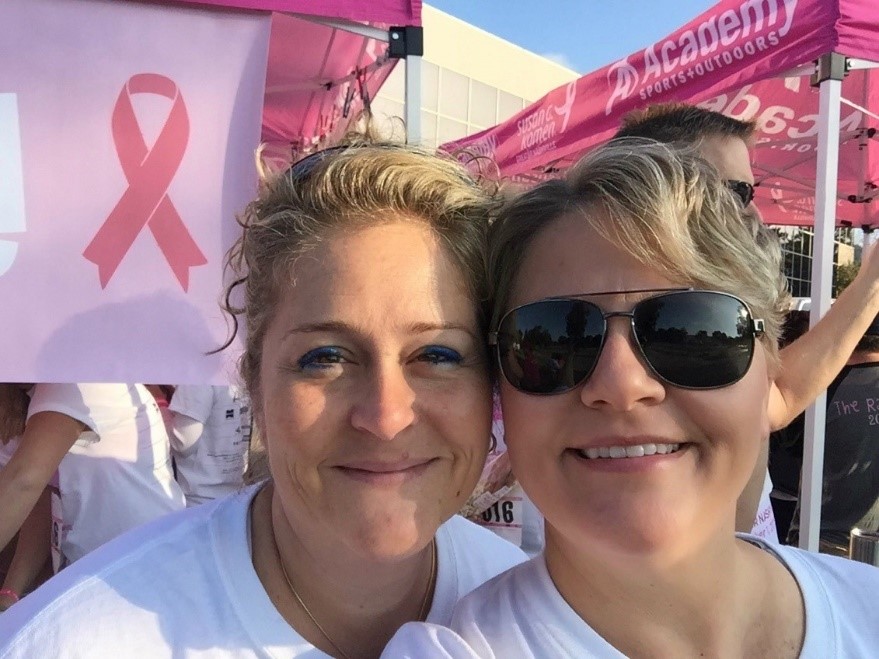 Amy and Lesa getting ready for the 5K
Earlier this month, I had the opportunity to complete a 5K with Lesa Grubbs. Some of you might remember Lesa from one of my earlier blogs (The Equinox Team Mom). She's not only my coworker, but she is also my friend. And she and I have been walking together regularly for several months. One day this summer while walking, we began talking about races and decided we should sign up for one together. So, I began looking for a 5K that would fit our schedule and budget.
As I scoured the event calendars on the local running club websites, I saw a post from a friend of mine named Sherri regarding the Susan G. Komen race for the cure. Within the past year, Sherri had been diagnosed with and was fighting back against cancer. From the very moment I proposed this 5K, Lesa enthusiastically agreed to join me in supporting my friend, a person whom she had never met. So, we signed up, and we kept walking together in the evenings and on weekends leading up to the race.
On race day, the weather was perfect, Sherri graciously greeted the members of her race team, and excitedly explained how our team had been among the top fundraisers of the entire event. It was a beautiful thing all the way around. The gun went off, and we started the race!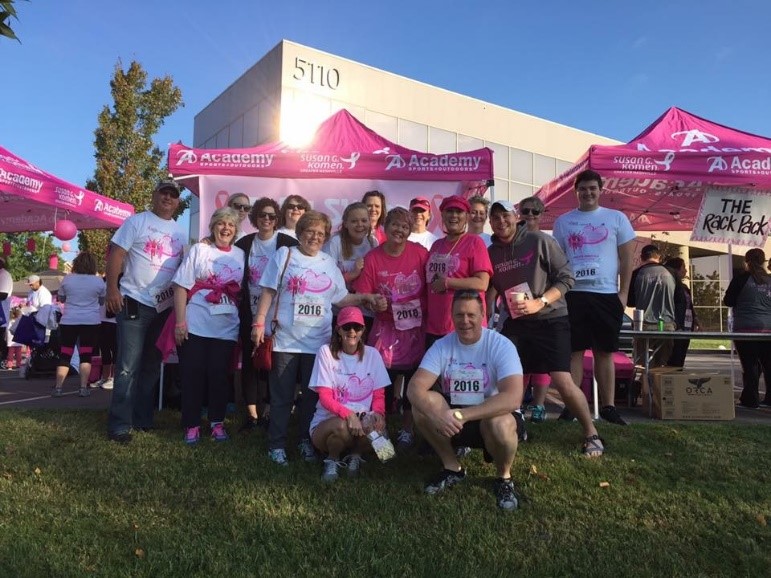 The people who went the distance for Sherri
As we progressed along the course, Lesa and I began talking. First, we talked about the day, the team that had gathered to support Sherri, and then our conversation turned to how we arrived at that moment in time—how we had followed through from the initial idea of completing a race to participating in a worthwhile 5K. How we weren't just coworkers who passed each other in the halls at work, but we also had a relationship that extended beyond Monday through Friday 9-5. We quickly commented that with Equinox's emphasis on relationships, it really was no surprise how we arrived here. At Equinox, we sincerely appreciate our customers and work hard to foster long-term relationships with them. We've successfully been able to do so, because we respect each other as we work toward this common goal.
And this emphasis on relationships is reciprocal...our customers also treat us awesomely! As an example, our long-time Protector support specialist Ernest Howell had to miss the Protector User Group Meeting (PUGM) last week. Occurring annually, the PUGM is a highlight of the year for both Equinox and event attendees not only for its educational benefits but also because everyone involved gets to catch up with each other on a personal note. Unfortunately, the day before the conference kicked off, Ernest's mother passed away. As soon as the conference began, several folks noticed his absence. When they learned what caused him to be away, they took up a collection for a memorial gift and asked for funeral arrangement details. Some handwrote notes for Ernest, and still others mailed sympathy cards to the office after the meeting. The outpouring of support was overwhelming but not surprising based on the bond that has formed between the Protector users and support staff.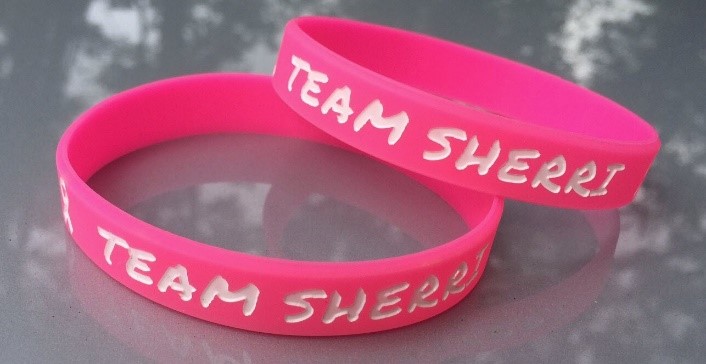 As for the race, we finished with ease (clocking the fastest time of any of our 5K distances to date) and were grateful for the chance to participate in such a worthwhile event. As for work, we went back on Monday, ready to listen to our customers, ready to go the distance, ready to support them in their current endeavors, and ready to work together to help them tackle the challenges of tomorrow.
About the Author
Amy Oldham is in Corporate Communications at Equinox Information Systems, where she creates and maintains the company's technical documentation as well as all other customer-facing publications. Amy is also responsible for the company's newsletter, email campaigns, press releases, and social media presence. When not writing, Amy enjoys spending time with her family, playing tennis, and swimming.

To learn more about Equinox, its products, and staff, visit www.equinoxis.com or call (615) 612-1200.