A Job Well Done - The Fatherhood Legacy
By Amy Oldham
November 9, 2017
Equinox is extremely proud of Wayne's
dedication and volunteer spirit!
When I initially interviewed at Equinox in January 2010, I had a great conversation with Byron Middendorf. During that talk, Byron gave me an insider's glimpse into the company that he and Wayne Lowe founded in 1986. Wayne was not present during that interview, because it was Wednesday. As Byron explained, Wayne took an unpaid day off from Equinox every Wednesday to volunteer at the Family Foundation Fund. At the time, I wasn't sure what that meant or how much to ask about it.
A few days later, I did meet Wayne, was offered the job, and embarked on my Equinox career the next month. Since then, it's become abundantly clear how important Family Foundation Fund (FFF) is to Equinox and how involved Wayne is with the program. In fact, he's such an asset to the program that they awarded Wayne with the first ever Fatherhood Legacy Award last month! Bestowed upon him at FFF's 25th anniversary celebration, this award recognizes his exemplary contributions to the program and its participants. Although he was surprised by the award, everyone else involved knows he deserves it!
Wayne initially became involved with Family Foundation Fund in 2000 as a volunteer and mentor. In 2009, Wayne turned 50, and he decided it was time to deepen his involvement. So, he took a 20% salary reduction, going part-time at his corporate job so he could volunteer every week at the Son Farm. Wayne arrives early every Wednesday to lead a devotional and then take the boys who currently participate in the program to school. Next, he becomes their "gopher", running whatever errands need to be done for the organization. He also performs a host of clerical and coordination tasks, such as making calls to moms and board members informing them of upcoming events/meeting, along with fundraising. Currently, Wayne's special project is to compile a database of all program alumni.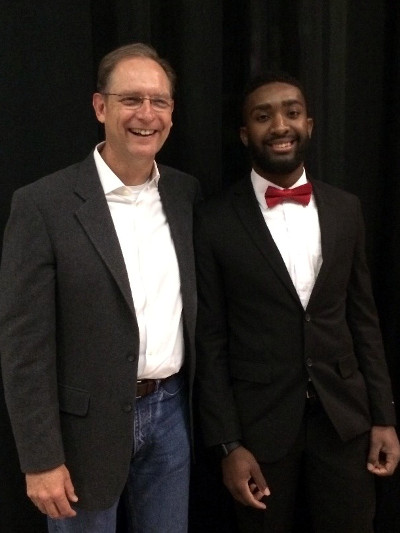 Wayne pictured with his surrogate son and
program alumnus Leon Dupree.
Beyond weekly volunteer duties on the Son Farm, Wayne has also mentored two sons, a task involving literally YEARS of devotion and dedication. His most recent mentee, Leon Dupree, entered the program in 2008, graduated in 2015, and is now a construction supervisor working on a downtown Nashville development. Most of us at Equinox know Leon, as he provided janitorial service for our building during his time in the program. Leon, his mother, and Wayne truly have a special bond.
As a corporation, Equinox proudly sponsors the Fatherhood Games, an annual half-day event held the Saturday before Father's Day. Several of us have run the 5K trail race that kicks off the event; still others have attended FFF's annual fall celebration and fundraiser, which features big name celebrity guests and entertainers. Even though he never talks about or takes credit for his volunteerism, all of us at Equinox recognize Wayne's passion for this organization and the work it does. And, we are all very proud of him. He certainly deserves this recent award!
Wayne attributes his initial involvement with FFF to knowing its founder, Onnie Kirk back in the 90s. Wayne highly respects Onnie, citing his guidance and direct approach as some of the most rewarding aspects of volunteering at Family Foundation Fund. No matter how it all came to be, I'm certain the program's participants, volunteers, and advisory board members are enriched due to their association with Wayne.
With Byron, Wayne founded Equinox Information Systems to create a great work environment. He's succeeded at the mission for excellence not only in the workplace but also beyond its borders through his work with FFF. Equinox heartily congratulates Wayne on this much-deserved award!
About the Author
Amy Oldham is in Corporate Communications at Equinox Information Systems, where she creates and maintains the company's technical documentation and all other customer-facing publications. Amy is also responsible for the company's newsletter, email campaigns, press releases, and social media presence. When not writing, Amy enjoys spending time with her family, playing tennis, attending Dave Matthews Band concerts, and swimming.
To learn more about Equinox, its products, and staff, visit www.equinoxis.com or call (615) 612-1200.
About the Family Foundation Fund
he Family Foundation Fund is a non-profit organization based in Nashville, TN, whose mission is to nurture, mentor, inspire and equip boys from homes with absentee fathers and help them to become successful, Christ-centered fathers who will impact the destiny of future generations. Visit http://familyfoundationfund.org/ to learn more.