Jumping for Joy!
By Amy Oldham
December 8, 2017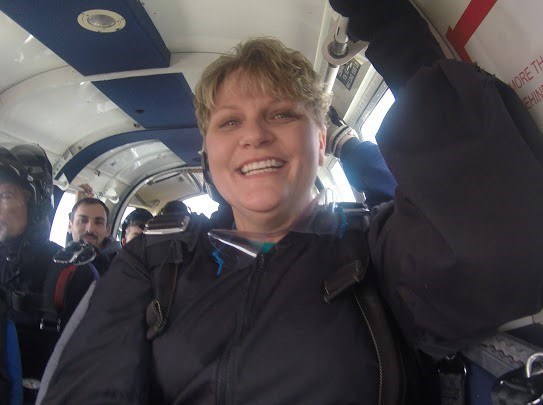 Lesa in the airplane ascending to 14,000 feet for her jump!
If you're associated with Equinox in any capacity as a customer, colleague, or partner, you've no doubt heard the name Lesa Grubbs. She's our self-proclaimed team mom who schedules, coordinates, and organizes virtually every aspect of Equinox operations. So, if you've ever called our office or attended a User Group Meeting, you know exactly who I'm talking about.
You may also remember reading about her, as I featured Lesa in a couple blogs last year. The first blog centered around her 23rd Equinox anniversary and explained how her model efficiency and organization benefit everyone on the Equinox team (The Equinox Team Mom). The second blog featured Lesa joining me for a 5K to support a friend of mine recovering from cancer (Going the Distance). Knowing her supportive nature, I was not the least bit surprised when I learned that Lesa planned to jump out of a perfectly good airplane to freefall at 100 mph as part of an effort to raise funds for the local Project 22 program.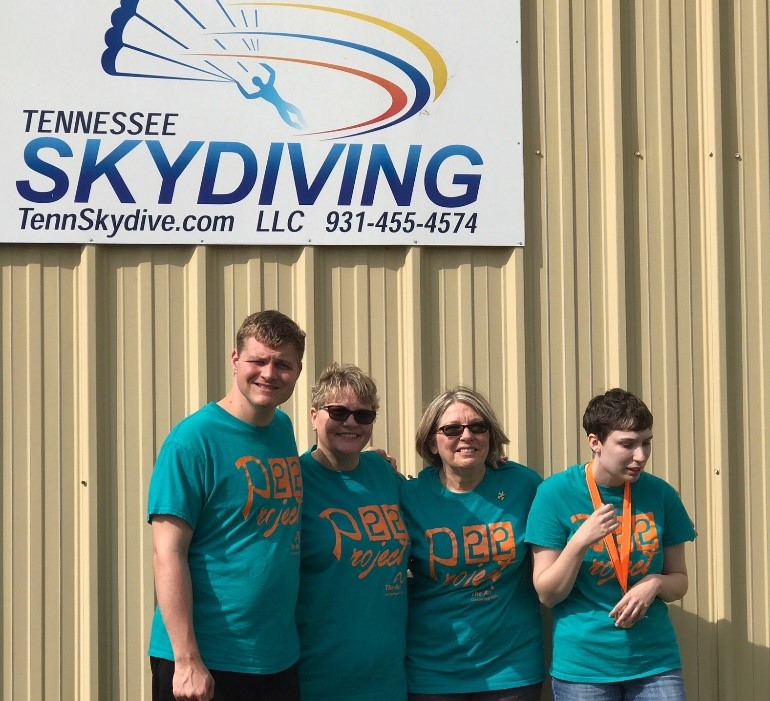 Pictured here at the airplane hangar, Kenneth (far L) and
Morgan (far R) are excited about the Project 22 skydive their
mothers planned.
Project 22 is a program of the ARC Cumberland Valley. It provides opportunities for young adults with disabilities, around vocational, social, recreational, volunteer, and life skills. The program's name stems from the fact that public school services are available for disabled and special needs individuals until they reach the age of 22. This beneficial program provides a multitude of ways to include and engage its participants in the community. For example, the group recently created Christmas crafts and delivered them to a local nursing home. They also have partnered with the VFW to plant a "victory garden".
Lesa's son Kenneth has participated in Project 22 for several years. One of Kenneth's best friends, Morgan, is also an active member of the group. Morgan's mother Tammy Vice began making plans for her milestone birthday earlier this fall by planning to skydive. Tammy asked Lesa to accompany her on the jump, suggesting that they incorporate Project 22 into the event to thank them for their efforts. And so, the "Jumping for Joy" fundraising event was born! After scheduling a jump at the nearest drop zone in Tullahoma, Tennessee, Tammy and Lesa set an initial $1000 goal for their efforts. Almost immediately, they surpassed that goal and upped it to $2000.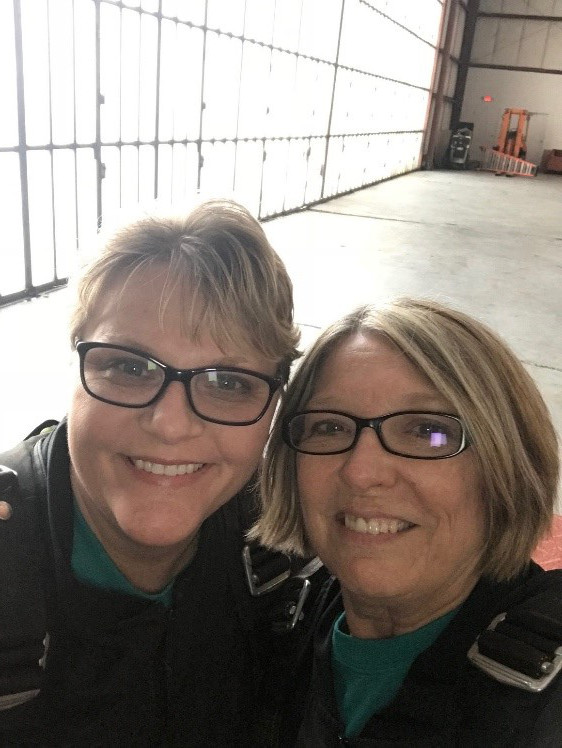 Lesa and Tammy in their skydiving gear
Tammy, Morgan, Lesa, Kenneth, and donors alike eagerly anticipated the skydive on October 15th. Unfortunately, the weather did not cooperate that day, so they rescheduled the jump. Donations continued to roll in while Lesa and Tammy tried not once but four times to align good weather conditions with their jump date. Morgan and Kenneth were real troopers through not one but four aborted skydiving attempts. In this case, the fifth time was the charm! On November 19th, Lesa and Tammy each jumped from the plane, soared above the clouds in free fall, and safely parachuted to land. All told, their "Jumping for Joy" campaign raised over $2400 for the charitable organization!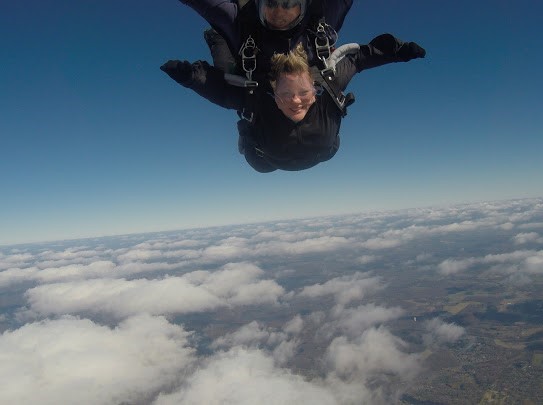 Lesa freefalling after jumping from an airplane!
When asked what advice she had for anyone contemplating skydiving, Lesa quickly said, "Be patient, as the weather is a huge factor when you can jump, but GO FOR IT!" All of us at Equinox are thrilled that Lesa experienced this exciting event with her friend. More importantly, we're proud of her efforts to raise funds and awareness for Project 22. You can watch the video of her skydive here.
About Project 22
Project 22 engages young adults with special needs in a multitude of activities designed to bolster motor, social, communication, educational, recreational, and job skills. Meeting biweekly, Project 22 gives participants the opportunity to complete crafts, be involved in the Veterans Day parade, perform Christmas singing events, take part in lots of special events, many of which benefit the community. The Arc of Cumberland Valley's Project 22 program is provided free of charge to all participants.
About the Author
Amy Oldham is in Corporate Communications at Equinox Information Systems, where she creates and maintains the company's technical documentation and all other customer-facing publications. Amy is also responsible for the company's newsletter, email campaigns, press releases, and social media presence. When not writing, Amy enjoys spending time with her family, playing tennis, attending Dave Matthews Band concerts, and swimming.
To learn more about Equinox, its products, and staff, visit www.equinoxis.com or call (615) 612-1200.