My New Phone Does What?!
By Joe Herron
September 11, 2017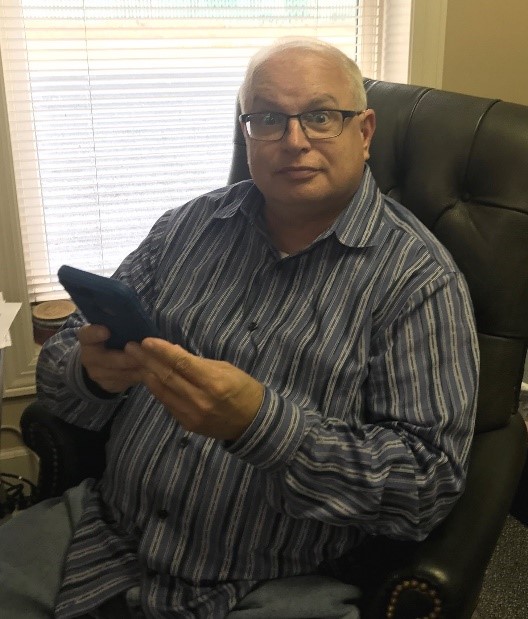 Joe discovered a wealth of new features
on his recently-acquired phone!
I recently was forced into buying a new cell phone, not by a provider but by my family. I may not represent the norm when it comes to phone users, but 90% of the people in my call list have the same last name as I do. So why did I get the new phone? My battery kept running low, and I would not remember to charge the phone. You can guess what happened...my family tried to call me, my phone was dead, so all I ever heard was "Why don't you remember to charge your phone?" or "What if it was an emergency?". Then, my daughter wanted to sync with my phone but it was a different brand than hers. Looking back, I'm sure there were many more reasons (issues) they wanted me to have the same type of phone they did. But from my perspective, the primary reason for having a different type of phone than they did was to avoid providing "phone support" for my family. It was very nice saying, "I know nothing about that type of phone." It was only after much resistance that I broke down and bought a new phone that was the same brand/type as the rest of my family.
And, that is when the problems started. I thought I was thinking ahead by purchasing the "larger" footprint version of the phone, which I'd carry for a few months and then trade with my wife so she could have a new phone (a luxury she would never spring for on her own). I also thought it was a phone she could always find in her purse. Never again would she have to call someone back because she heard the phone ringing but could not find it! I'd be the hero. Well, guess what? I still have this BIG phone. And I'm still wondering whether most people use a backpack or fanny pack to carry such a large phone!? For those who remember the bag phones or the brick phones and thought they were sooo cool, I'm over it. Give me a small phone!
Then it started with "How do you do...", "I don't know how to...", and the worst "My phone is frozen." Short cuts, buttons, and combination of buttons, I had no idea which to try first. I sure wish I had my old phone, but that was NOT an option. Like it or not, I was forced into being THE family phone support. It is amazing how people from the same family approach questions differently. One called with questions or sent me text messages. Sometimes, they wanted a quick answer only, and other times they wanted details of the solution. One wanted to attempt a solution, mistakes and all, until she figured it out. Did I need to go through the entire set of instructions from beginning to end or just a specific section? I was often reminded that they just wanted me to show them how to do it. My family is proof that everyone learns in different ways.
Interestingly enough, my work with Equinox system users had already made this fact clear. I am thankful to work for a company that understands there are different methods of learning as well as types of assistance when help is needed. The Equinox Support department is structured to make sure there is an appropriate option for all situations and learning types.
| | |
| --- | --- |
| | First option available is a phone call. Yes, we answer the phones, gladly discuss your system or questions, and provide assistance via a telephone call. This method provides instant feedback to both sides of the call. Hearing the voice inflection and topics that evolve in conversations can easily lead to quick answers. Hearing the gratification when the person on the other end has an "Aha!" moment is refreshing. Reach us at (615) 612-1225 Monday-Friday from 7:30 to 5:00 (Central). |
| | Email is also very effective for communicating. Consider screen shots and attachments as a method to visually explain what you are seeing. This method also provides an excellent document trail for reference if the issue is detailed and possibly spans an extended time frame. Email us at Support@Equinoxis.com with questions, compliments, or issues. We monitor and respond to email Monday-Friday 7:30 to 5:00 (Central). After hours' emails are auto-acknowledged and queued for normal business hours. |
These two methods are great for answering general questions, but we also field training and procedural questions. There are many reasons folks need more in-depth assistance, including when we introduce new system features or when a new employee joins the customer's organization and is new to the Equinox system. Regardless of the reason, calling or emailing Equinox Support is still an excellent option. However, we also offer many more specific training options.
| | |
| --- | --- |
| | We have options for on-site (typically during initial project implementation) or remote training on an ad hoc basis. Schedule training by contacting Training@Equinoxis.com. |
| | On a regular basis, we host educational webinars, many of which are developed in response to specific questions to the Equinox Support department. For example, this last year, we presented sessions on Protector Scoring and Notification and TeleLink Network Management Reports. You can attend the webinars or watch the recorded session at any time on our web site: www.equinoxis.com/login.php. |
| | For those who prefer to look up, read first before using the other options, you can access instructional documents either via your system HELP menu or online. They range from implementation guides and user guides to specific topic bulletins (e.g., TeleLink Report Creation Bulletin, Protector CMP Hot List Bulletin, Protector CMP Rate Import Bulletin, and TeleLink 7 Bursted Usage Reporting Bulletin). Go to the online library 24 hours a day to access technical manuals for all Equinox products. |
Does my family still call me for phone support—YES. I applied a system update to my phone last week. It added many new features...which meant a whole host of new questions. This experience is similar to a software system update, with new features and use cases. My hope is that you will reach out to Equinox and let us provide whatever assistance best meets your needs. To be sure you know how to contact us, regardless of your need, refer to this handy reference http://www.equinoxis.com/welcome.php.
About the Author
In his role as Vice President of Support for Equinox, Joe Herron oversees all of customer support, including quality assurance, product documentation, installation, upgrades, and the customer support help desk. His team's primary task is working with customers on the day-to-day issues, for example scheduling product updates, turning up a new switch, fine-tuning a configuration setting, or helping troubleshoot a technical issue. When he's not putting the processes and standards in place that ensure Equinox customer uniformly rave about the service they receive, he enjoys reading and spending time behind the wheel of his convertible.To learn more about Equinox, its products, and staff, visit www.equinoxis.com or call (615) 612-1200.