Telecommunications Security Certification
By Amy Oldham
March 10, 2015
Several of Equinox's recent blogs have focused on the activities surrounding the Communications Fraud Control Association (CFCA) event, which was held earlier this month. CFCA is a professional network of industry experts working together with the collaborative goal of telecom fraud prevention. The organization emphasizes information sharing and education on every aspect of fraud detection and mitigation. CFCA's members have investigated and, at times, aided in the prosecution of fraudsters. Equinox joined CFCA almost 20 years ago and is proud to be an active participant of the organization.
In 1985, CFCA began as an organization comprised mostly of long distance carriers and security professionals primarily based in the United States. These organizations banded together to discuss potential solutions for the growing issue of fraud. As the telecom industry grew and evolved, so did the membership of CFCA. Today's members include ISPs, cable and satellite providers, law enforcement agencies, and wireless communications, with global members across all continents. These members benefit from their involvement in CFCA in several ways, including the educational materials, the information sharing forums, and the certification program.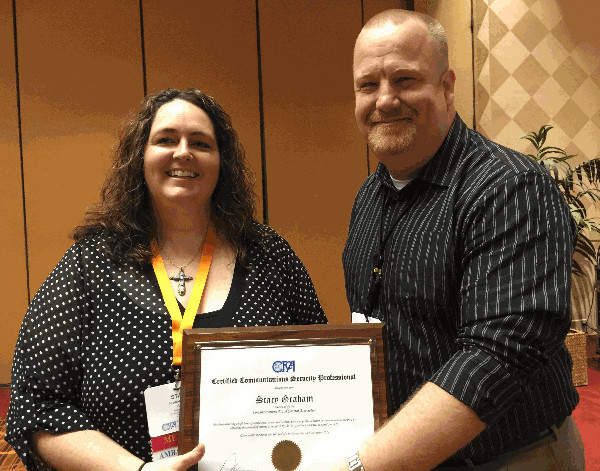 Congratulations to Stacy Graham for earning the Certified Communications Security Professional designation! CFCA's Vice President, Chris Walters, proudly presents her CCSP certificate here.
The CFCA established the Certified Communications Security Professional (CCSP) program in 1993 as a way to recognize a level of expertise in the Telecommunications Security industry. Combining a person's years of experience and education, members can take the exam for CCSP certification. Achieving CCSP certification denotes industry experience, which is a recognized standard across our industry. Eligibility is determined by a credit requirement, a $200 administrative fee, and successful completion of the exam. Since the inception of the CCSP program, Equinox customers have played a very important role in the program. In fact, the very first member to obtain a CCSP designation is an Equinox customer. On June 1, 1994, Cheryl Smith Rardin received the very first certificate from this program. The most recent CCSP certification was earned by Stacy Graham, who is also an Equinox customer. Today, there are currently 6 Equinox customers who hold active CCSP designations, including Chris Walters, Mary Hochheimer, Stacy Graham, Matthew Laidlaw, Dean Boehm, and Cheryl Smith Rardin.
To learn more about the credit requirements as well as see study reference material for the exam, visit the CFCA website at http://www.cfca.org/certifieligibility.php. If you are interested in pursuing a CCSP certification, please contact Chris Walters at chris.walters@consolidated.com. For more on CFCA and its mission, visit the www.CFCA.org website.
About the Author: Amy Oldham is in Corporate Communications at Equinox Information Systems, where she creates and maintains the company's technical documentation as well as all other customer-facing publications. As part of her efforts on the Sales & Marketing team, Amy is responsible for the company's newsletter, email campaigns, press releases, and social media presence. When not writing, Amy enjoys spending time with her family, playing tennis, and swimming. To learn more, visit www.equinoxis.com or call (615) 612-1200.