Case Study: A Tale of Two Results
A Tale of Two Results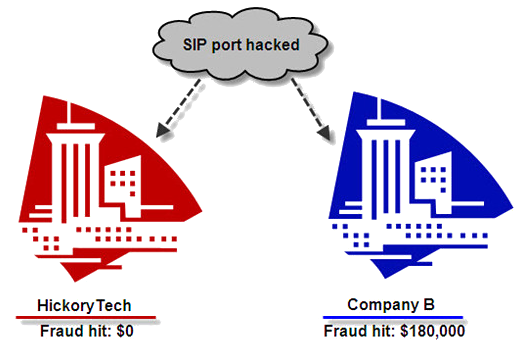 Saturday, February 5 was an unusually quiet day at Company B. The steady whisper of the switch fans belied the fact that the company's profits for the entire month were quickly being gobbled up by hackers. In nine-days, undetected calls—including calls to satellite phones—racked up $180,000 in charges. How? Hackers found an open SIP port and placed outbound calls on a misconfigured trunk.
Across the country, in Minnesota, things were not so quiet at HickoryTech. Hackers—maybe even the same ones—took advantage of the same setup and attempted outbound calls to satellite phones. Because HickoryTech had installed Equinox's Protector Fraud Management System two years ago, this suspicious traffic was detected, and alarms went off. The result = hacker shut down immediately, company profits preserved, and Sr. Product Manager Greg Hasse a hero for thinking ahead!
Is everything quiet in your switch room? Contact us for more information on protecting your profits!
Request a System Demo