Saying Goodbye and Thank You
Dennis Wynne 1958 - 2015
By David West
November 25, 2015
A few days before the start of the long Thanksgiving weekend, we heard the sad news—our colleague and friend Dennis Wynne was gone.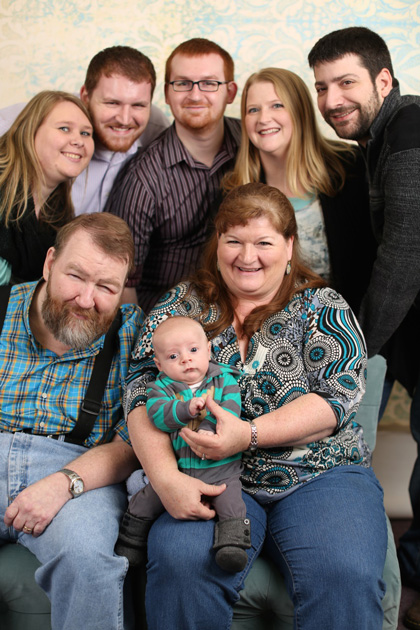 When Dennis started at Equinox in 1988, the only other employees were founders Byron Middendorf and Wayne Lowe. With a background in computer hardware service and repair, programming was just a hobby for Dennis. But, armed with incredible intellect, boundless curiosity, dogged determination, a great attitude, and a great wit, he quickly became invaluable to Equinox. Since then, just about every solution we've ever deployed has included code that Dennis wrote.
When I first came to Equinox, I was impressed and appreciative of how welcoming Dennis was to me. So often in technology companies there is a constant tension between those that do the hard work of creating the solutions and those like me, who sell them. Not so with Dennis. From the very start he was gracious to me and went out of his way to do everything he could to help me be successful.
This was brought home for me about six months after I started. With a potential sales opportunity in play, I called Dennis one afternoon needing help. In addition to needing answers to what were very rudimentary questions, I also needed him to do some boring and painstaking work to evaluate the customer's data and determine what would be required to meet their needs. He answered my questions, evaluated the data, and much to my surprise, gave me a full assessment before the end of the day.
I told Dennis how much I appreciated it, and he responded with words I would hear from him hundreds of times through the years: "it all pays the same." Coming from Dennis, this comment was not dismissive or a sign of resignation. To Dennis, the only thing that mattered was helping the company succeed, whether the task be menial or monumental. And for him, it covered the gamut, including not just programming or helping a sales guy, but also installing a hard drive in a server, teaching a new employee how to use the phone, choosing an anti-virus solution, or installing a web cam in his office window so we could check on road conditions on snowy mornings.
This lack of agenda and ego set the standard for every employee who followed, and in this way, Dennis contributed significantly to the culture that has made us so successful. In the last few years as he began to encounter physical limitations, his good spirits and willing attitude remained. On what turned out to be his last day in the office, he helped our support team resolve a vexing technical issue for a new customer.
All of our customers benefited from his intelligence and curiosity—through the code that he wrote and the hundreds of problems he helped troubleshoot over the years. All of his coworkers benefited as well. Dennis loved technology, cars, movies, music, and books. Once he knew your tastes, periodic emails would show up in your inbox with a suggestion of a new author, book, TV show, movie or car.
The ultimate "early-adopter", Dennis introduced everyone at Equinox to TiVo, XM Radio, GPS, Wi-Fi, jailbroken iPhones, and a host of other technologies and gadgets. Once you decided you had to have something, you could count on Dennis for a lengthy email with product recommendations complete with links to reviews and web sites to purchase it (and often a coupon or rebate offer). And if something went wrong, he was happy to provide technical support for whatever it was you couldn't get to work.
For the last 20 years, Dennis, Joe Herron (VP of Support), Byron, Wayne, and I met weekly for 30-60 minutes, and quarterly off-site for 4-6 hours as the Senior Management team. We used these meetings to review every department, employee, customer, and initiative and to make decisions about any necessary changes. In these meetings, I got to see the absolute best of Dennis.
We frequently teased him that he was the "Mother Hen" of Equinox because of his thoughtful engagement with the people and issues of Equinox. If someone was struggling, he was often the first to know and would address it with sensitivity and compassion. On the other hand, if someone was falling short of expectations, he was also sure to point out that there was room for improvement.
Frequently, these meetings included a lot of discussion that was not directly related to Equinox (to put it charitably). Cars were a frequent topic of conversation, and Dennis was the acknowledged expert on this front. It was hard not to catch his enthusiasm when he would describe his latest ride (and over the years there were many). Often we would go on tangents about sports, music, or trivia. A voracious reader and consumer of music and media, Dennis was almost always the first to recall the name of that player or the artist who sang that song in the 70s.
Nothing better exemplified his delightful complexity than his vocabulary. A transplant to the south, I found myself learning new phrases and words when talking to Dennis. Among the slang and aphorisms, Dennis liberally sprinkled words that could show up on an SAT vocabulary test. The best was when they would come out in the same sentence. After one particularly bad sales quarter, as I wrapped up the dismal sales review, Dennis encouraged me, saying "I think we're fixin' to hit the nadir."
It was a well-known fact around the office that one should never go to Dennis for a short answer; however, if you needed a thorough, thoughtful answer, you couldn't do any better than to seek him out. In recent years, as his voice weakened it was harder to understand his words. As his body failed him, his emails become shorter and less frequent. I will always regret that I allowed this to deter me from seeking him out at times.
My wife is a doctor and she refers to some diagnoses as "winning the bad luck lottery." This was certainly the case for Dennis. But he bore it with grace and dignity. He continued to contribute to Equinox, smile, and laugh. In my last conversation with him, after asking about me and my family, he commented that it had sort of been a bad year for him. This remarkable understatement was the closest I ever heard him come to negativity or self-pity.
I will always be thankful to have known and worked alongside Dennis. I know I speak for everyone at Equinox when I say that he will be greatly missed. We are all the better for his presence in our lives.
---
Dennis Lee Wynne Sr. passed away peacefully in his sleep on November 22, 2015 following a three-year battle with Multiple System Atrophy (MSA).
Dennis was a resident of Nashville, TN his entire life. He had a passion for learning new things including auto cross, bowling, country western dancing, HAM radio, and programming. He created the first BBS in Nashville, named "The Troll's Cave PCBoard," from 1987 to 1994.
Dennis was Vice President of Information Technology at Equinox Information Systems for 27 plus years. He loved the unique challenge of the ever-changing telecommunications world.
He is survived by his loving wife of 28 years, Becky; children Crystal (Adam) Doochin, DJ, and Derek (Courtney); grandchildren Kempton and Sebastian.
He will be deeply missed.