Swimming with the Sharks
By Amy Oldham
December 19, 2017

Yes, that's me in my scuba gear! My son and husband are close behind me as we scuba dive with whale sharks!
If you've read any of my previous Equinox blogs or are friends with me on social media, you're probably aware that I love to swim. I enjoy it so much that I installed a pool in my backyard, so I could maximize my time in the water. This past year, I decided to take that love of swimming to a whole new level. This summer, my husband, son, and I earned our open water diver certification from PADI (Professional Association of Diving Instructors). Believe it or not, my love for swimming was not the primary driver in becoming scuba certified. Instead the desire to share a special experience with my family is what propelled me toward this goal.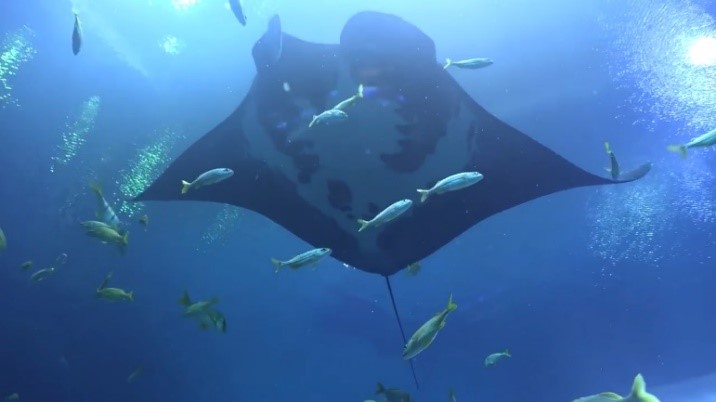 At 12 feet across, Tullulah is the largest Manta Ray in the
Georgia Aquarium!
In Tennessee, your 16th birthday signals that you are eligible to obtain a driver's license. Therefore, it's often celebrated as a milestone birthday. My son turned 16 this past weekend, so we celebrated by swimming side by side with over 5,000 sea creatures, several of whom are over 30 feet long. It was truly awesome!
After seeing divers in action last year, my son declared an interest in scuba. And that's how this whole birthday experience began. My husband researched the trip and got us all enrolled in a local certification program earlier this year. It was a great adventure from the very start!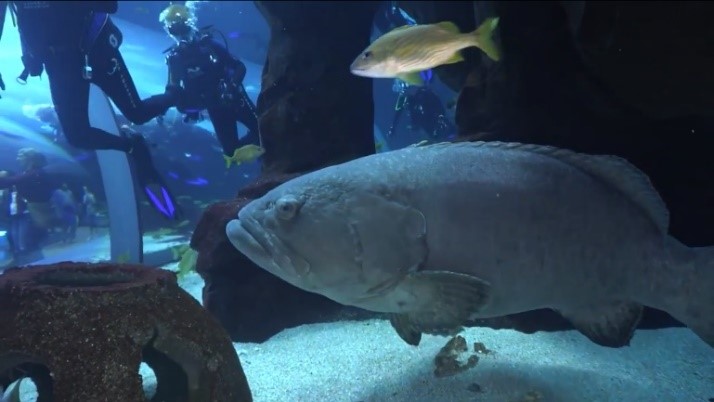 This giant grouper lives up to his name!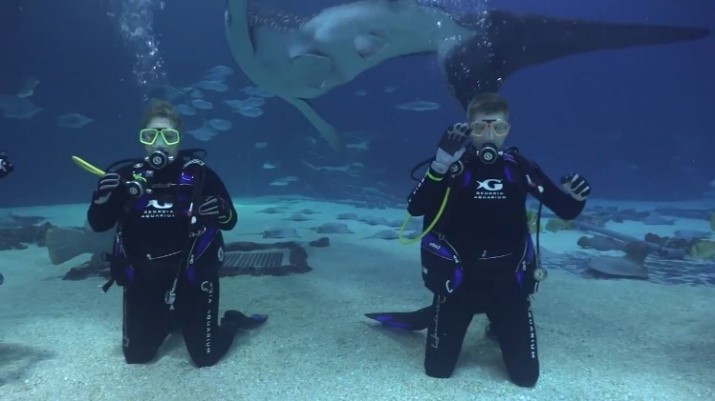 I'm kneeling here with my son while a whale shark
passes over and behind us!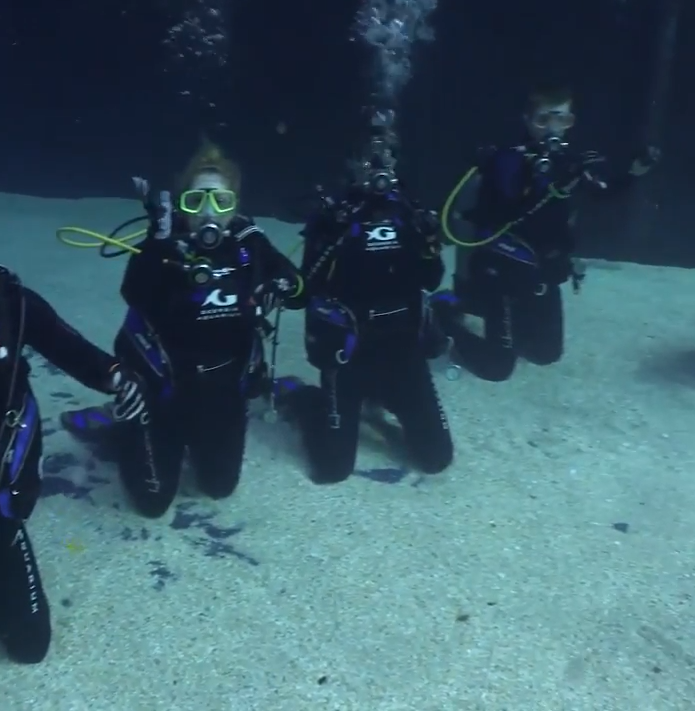 What a great adventure to share with my husband and
son...here we're kneeling at the beginning of the dive
The Georgia Aquarium's Journey with Gentle Giants is the only program in the world that guarantees you are diving with and will see whale sharks and manta rays. The Ocean Voyager exhibit at the Georgia Aquarium holds 6.3 million gallons of water, has a maximum depth of 33 feet, and is home to over five thousand fish including whale sharks (the largest fish in the world), zebra sharks, sawfish, leopard whiprays, bowmouth guitarfish, humphead wrasses, pompano, blacktip reef shark, sandbar shark, and several species of rays. In addition to the dive, we opted to obtain the PADI Manta Ray Distinctive Specialty Certification as part of our experience, which included academic and observation components, along with up-close encounters in the water with the mantas.
During the dive, I personally encountered schools of beautiful yellow porkfish, the giant grouper, at least three species of shark, all four of the manta rays, a longcomb sawfish, the pointed-nose stingray, and Ocean Voyager's all four whale sharks. I was also able to see out the two and a half feet thick observation windows where family and friends gathered to watch their loved one's dive.
The coolest (and most intimidating!) animal encounter was when the habitat's solitary green sea turtle swam directly underneath me and emerged right in front of my face. He weighs over 400 pounds, so it frightened me how easily he snuck up on me! By far though, my favorite part of this event was being able to dive with my husband and our son on his actual birthday. Beyond the beauty of the sea creatures and habitat, it was awesome to watch them both as they explored the Ocean Voyager's floor. What a great day!
You can watch the video of my dive here.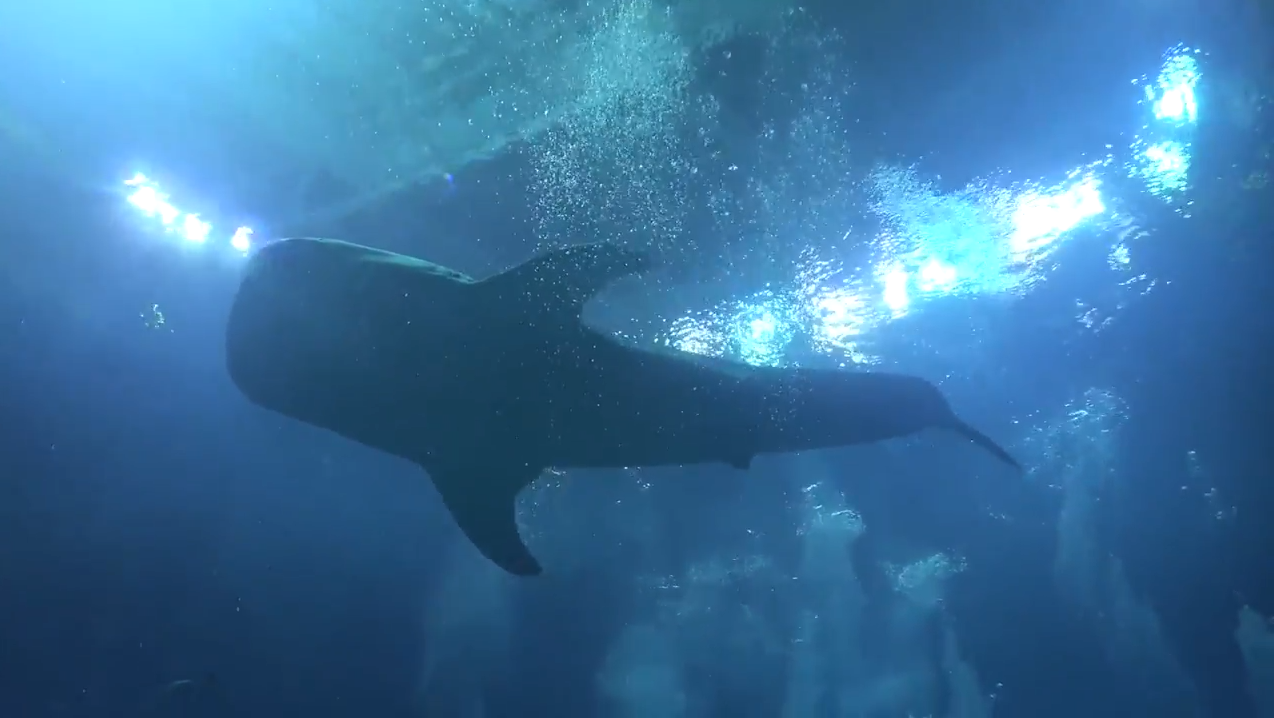 One of the Georgia Aquarium's four Whale Sharks glides overhead during our dive.
About PADI Distinctive Specialty Certification
Certified Open Water Divers who participate in the Journey with the Gentle Giants Dive Immersion Program are eligible to earn a unique PADI Distinctive Specialty Certification. The Manta Ray Distinctive Specialty Certification is not offered anywhere else in the world besides the Georgia Aquarium. This unique opportunity is available to all divers certified by any recognized national or international training organization, like and including the PADI Open Water Diver Certification. You can learn more about this special certification as well as the Georgia Aquarium's Journey with Gentle Giants opportunity by visiting http://www.georgiaaquarium.org/experience/explore/programs-activities/animal-interactions/journey-with-gentle-giants.
About the Author
Amy Oldham is in Corporate Communications at Equinox Information Systems, where she creates and maintains the company's technical documentation and all other customer-facing publications. Amy is also responsible for the company's newsletter, email campaigns, press releases, and social media presence. When not writing, Amy enjoys spending time with her family, playing tennis, attending Dave Matthews Band concerts, and swimming.
To learn more about Equinox, its products, and staff, visit www.equinoxis.com or call (615) 612-1200.