What Happens in Vegas Should Not Stay in Vegas
By Amy Oldham
September 17, 2014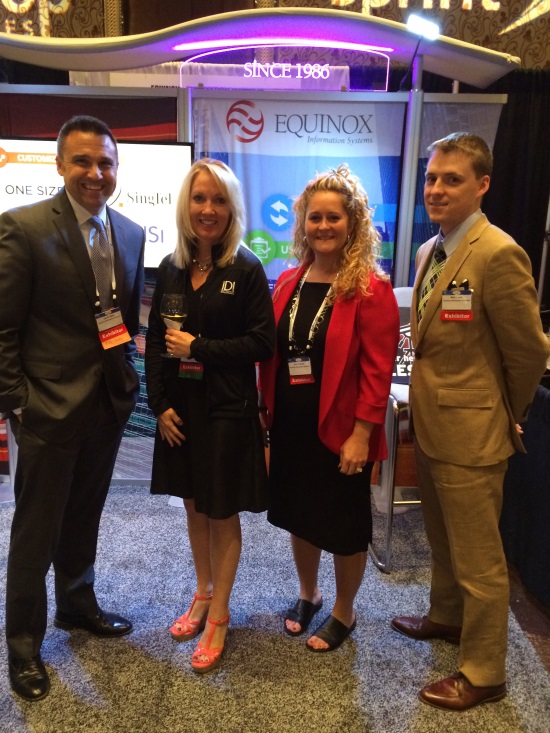 The exhibit hall is a great place to connect with partners like IDI Billing. Pictured (L to R): David West (Equinox), Susan King (IDI Billing), Amy Oldham (Equinox), and Matt Lowe (Equinox).
I'm sure you've heard the old saying: What happens in Vegas stays in Vegas. In this case, we hope just the opposite is true. That's because the Equinox team recently returned from the CCA Annual Convention and CTIA Super Mobility events, which occurred last week in Las Vegas. These events provided an excellent backdrop for meeting with existing customers, networking with colleagues, and showcasing our line of business assurance solutions to folks are looking for revenue optimizing strategies. It was a productive week, and we don't want any of the momentum or connection points to stay behind in Vegas!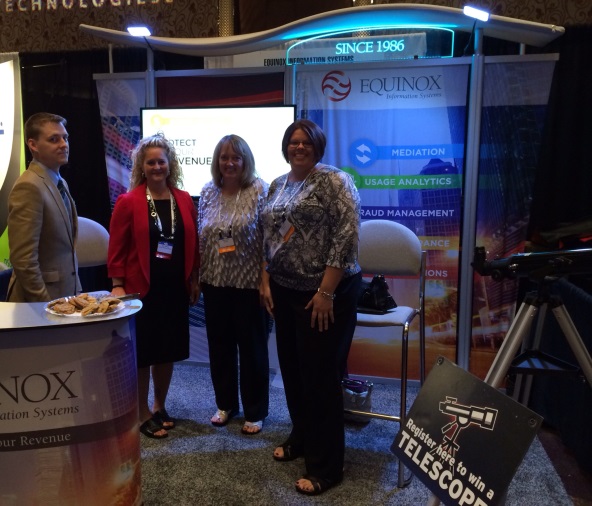 Many CCA members already rely on Equinox solutions. We enjoyed networking with our customers at the show. Pictured L to R: Matt Lowe and Amy Oldham (Equinox) along with Carey Stover and Shelly Stork (iWireless).
Things kicked off on September 7 at CCA's Annual Convention. This event brought carriers, technology experts, network builders, consultants, media, analysts, and mobile industry influencers together to network, learn, and share best practices. This year, investing in the CCA event afforded even greater networking and educational opportunities because it provided dual-access to CTIA's Super Mobility show floors and keynote sessions later that same week. Having access to both events gave us a broad look across the entire wireless marketplace from two very distinct perspectives.
We are back from Vegas. And to ensure that what happened in Vegas didn't stay there, I compiled a list of the top 5 Vegas highlights:
Networking. One of the single most valuable benefits of the trip in terms of ROI is networking. I'm not talking monetary returns either. The ability to be around like-minded individuals from whom we can learn is priceless. Furthermore, such connections open the door for future educational opportunities.

Getting feedback. Equinox has served CCA's members with solutions for over a decade. This event allowed us to actively engage with customers like C Spire, Inland Cellular, iWireless, Nex-Tech Wireless, Carolina West Wireless, and Union Wireless, gaining insight into changes we can make to best serve their business assurance, usage analytics, and mediation needs.

Fulfilling our mission. We are passionate about helping carriers protect and optimize their revenue. It's gratifying to hear success stories from current users and fun to demonstrate these strategies to carriers who are looking for new ways to hold on to more of their bottom line.

RCR Wireless's Lindsay Franklin interviews Equinox EVP David West regarding the company's usage analytics solutions.

Participating. We are active members of CCA because it is a great way to keep a close eye on the business and regulatory issues currently facing the wireless industry. The organization's events, committees, and service projects allow us to forge new and further foster existing relationships.

Coming Home. We love travelling and meeting our customers at events like CCA for all the reasons listed in items #1-4. But we also love coming home because family comes first. Equinox is a great place to work because the company was founded on this very belief. With our families well cared for, we know that we can wholeheartedly take what happened in Vegas last week and apply it to making a better tomorrow for us and our customers.
About the Author: Amy Oldham is in Corporate Communications at Equinox Information Systems, where she creates and maintains the company's technical documentation as well as all other customer-facing publications. As part of her efforts on the Sales & Marketing team, Amy is responsible for the company's newsletter, email campaigns, press releases, and social media presence. When not writing, Amy enjoys spending time with her family, playing tennis, and swimming. To learn more, visit www.equinoxis.com or call (615) 612-1200.